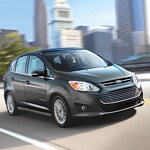 Hatchbacks have become very popular in recent years not just as family cars but also as economical cars for commuting to work, school or a vacation. They offer a lot special features that you just won't find in a family or midsize car or sedan. Our team at Greiner Ford of Casper is eager to show you our collection of hatchbacks and show you reasons why you may want to buy a hatchback.
Hatchbacks sit higher off the ground than your average car so you'll get a better view of the road in front of you and surrounding you.
Space - One of the greatest things about hatchbacks is the extra space they offer to drivers and their family members. The rear seats can split and be folded down, which allows for extra cargo space.
Flexibility - Because of the way the seats fold, the hatchbacks can be used like a car or like an SUV.
Parking is much easier with a hatchback because even though the vehicle seems big, it's actually smaller in terms of space required for parking.
Hatchbacks offer more headroom for passengers in the back seats because they're taller.