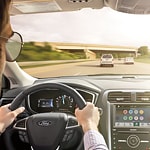 If you're looking for a new vehicle that delivers comfort, style and design amenities galore, the Ford Fusion will not disappoint. Our knowledgeable staff is pleased to offer this popular, versatile midsize sedan line to drivers in and around Casper, and we're excited to show you how it can fit seamlessly into your life.
From the attractively detailed front grille to the roomy trunk, the Fusion was engineered for visual appeal, convenience and ease-of-use. Inside the cabin, the beautifully upholstered seating makes traveling a pleasure, and the well-planned dash and console incorporate everything that you'll need to be comfortable on the road.
The Fusion's exterior is no less impressive. The smooth, aerodynamic profile creates a commanding presence on the road, and high-end accents like the modern lighting layout and rear spoiler are sure to turn heads.