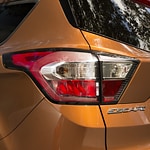 The new Ford Escape is not only a wildly popular compact SUV. It is also one of the most conveniently designed vehicles hitting the road today.
Your convenience is a priority when you get behind the wheel of your new Escape. For example, why bother fumbling with your keys and dropping your bags to lift open the back gate? Simply touch the bottom of the back of the Escape to get the gate to open. All you have to do is touch the back end of the vehicle to get the gate to raise itself.
Also pair your smartphone to the Escape and then use your favorite smartphone features on the 12.3-inch LED touchscreen display. This display in the front console lets you access apps, music playlists and more on your phone and also make phone calls or send text messages without taking your hands off of the steering wheel.