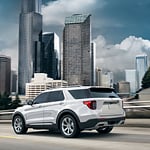 The newest Explorer from Ford is a leading three-row SUV that outshines much, if not all, of its competition. It is built to be one of the toughest SUVs on the road today. It comes packed with design features that make it not only reliable but also safe and convenient to drive.
Thanks to Ford's innovative technology, the new Expedition comes with an integrated infotainment system. This system can be used for a variety of purposes including pairing your smartphone to it and accessing apps and features on your device. All of the features from your phone will display on the Expedition's LED touchscreen display on the front dashboard.
The Explorer also has power seats that fold and flip as needed to give you easy access to both the middle and back row. You can fold down the outer seat from the inside to climb out of the back row or get inside the vehicle.